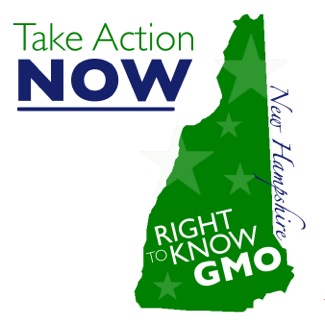 NH Right to Know is urging a final push of action this week as NH's representatives vote on GMO labeling legislation:
On Wednesday, January 15, 2014 New Hampshire's House of Representatives will be voting on the amended version of HB660. We expect that it will be highly debated on the floor.
3 things you can do before Wednesday if you want to see HB 660, NH's GMO labeling law, pass:
1. Call Your Reps
It is urgent that we have as many people call their Representatives as possible between now and Tuesday. Please contact your own reps, and ask them to vote "Yes!" on the Amended version of HB660. Please ask others to contact their reps, too. 
Find their contact info online >
2. Call the Speaker of the House
3. Help with Business Endorsers
Finally, we are still working on our list of NH entities that support GMO labeling. Is your business, farmer, health food store, healthcare provider, association, etc.
listed on our website?
 Please ask them to sign up by Monday afternoon!
If you would like to learn more about NH's bill, please visit NH Right to Know GMO
Thank you for your support.
Respectfully,
Bonnie Wright
NH Right to Know GMO
NH RIGHT TO KNOW GMO is a statewide grassroots network of safe food advocates, working together to educate NH citizens, and our state legislators. Our goal is to reach a critical mass of awareness and support for HB660, NH's pending bill that will require the labeling of Genetically Modified (GM) foods in New Hampshire.