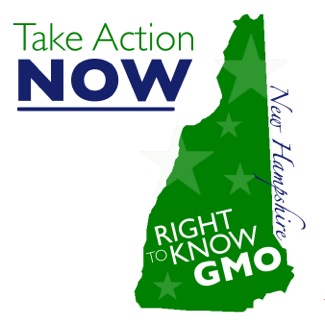 Take Action on HB 660: NH's Bill requiring the labeling of Genetically Modified Foods (GMOs), from NOFA-NH:
The Subcommittee votes this Tuesday, October 29th! 
The Full Agriculture Committee votes on HB 660 on November 7th!
Call or write to let them know you have a right to know what is in your food!
For environmental, health, religious, and cultural reasons, New Hampshire citizens want to make informed choices when they shop. Labeling foods produced with GMOs allows us to make our own choices about how to feed ourselves and our families.
Most crops grown in New Hampshire and sold as human food are not genetically modified making this a win-win for New Hampshire. It will have little to no impact on our farmers, AND studies have shown there will be little to no cost to consumers at the grocery stores.
Please call or write the members of NH's House Environment and Agriculture Committee listed below to make your voice heard.
See http://nofanh.org/farming/policy/gmolabeling/ for more information and to follow HB 660. Email Alex Simpson at ahksimpson@gmail.com if you have any questions.
Committee Members who are also on the Subcommittee:
• Peter Bixby (D-Sub-Cmte. Chair, Cheshire Dist 1 Dover): 749-5659, peter.bixby@leg.state.nh.us
• Scott Burns (D-Merrimack Dist. 2 Franklin): 203-7727, scottburnsstaterepresentative@gmail.com
• Alan Turcotte(D- Merrimack Dist. 22 Allenstown): 485-2349, alanturcotte4rep@gmail.com
• Wayne Moynihan (D-Committee V-Chair, Coos Dist. 2 Dummer): 449-2058, wayne.moynihan@leg.state.nh.us
• Bob Haefner (R-Hillsborough Dist. 37 Hudson): 889-1553, bobhaefnerjp@comcast.net
• Jane Johnson (R-Cheshire Dist. 12 Swanzey): 352-4057, janejohnson7@yahoo.com
• Linda Lauer (D -Grafton Dist. 15 Bath): 747-4001, linda.lauer@leg.state.nh.us
• Tara Sad (D-Committee Chair- Cheshire Dist 1 Walpole): 756-4861, tara.eric@gmail.com
• Lisa Whittermore (D-Rockingham Dist. 5 Londonderry): 434-0382, lisa.whittemore@leg.state.nh.us
Additional Environment and Agriculture Committee Members:
• Christy Bartlett (D-Merrimack Dist. 19 Concord): 224-3174, christydbartlett@gmail.com<
• Rebecca Brown (D-Grafton Dist. 2 Sugar Hill): rebecca.brown@leg.state.nh.us
• Janice Gardner (D-Strafford Dist. 15 Dover): 742-0205, janice.gardner@leg.state.nh.us
• David Miller (D-Strafford Dist. 23 Rochester): 332-0925, david.miller@leg.state.nh.us
• Warren Groen (R-Strafford Dist. 10 Rochester): 332-8988, warrengroen@gmail.com
• Stephen Palmer (R-Hillsborough Dist. 23 Milford): 673-5272, spalmer_peanuts@msn.com
• Guy Comtois (R-Belknap Dist. 7 Center Barnstead): 776-8989, gcomtois2010@gmail.com
• John O'Connor (R-Rockingham Dist. 6 Derry): 434-8393), john.oconnor@leg.state.nh.us
• James Parison (R-Hillsborough Dist. 25 New Ipswich): 878-5001, james.parison@leg.state.nh.us
• Michele Peckham (R-Rockingham Dist. 22 North Hampton): 997-112), michele.peckham@leg.state.nh.us
• Richard Gordon (R-Rockingham Dist. 35 East Kingston): 642-7252, dick.gordon@leg.state.nh.us
For more information and to follow HB 660: http://nofanh.org/farming/policy/gmolabeling/