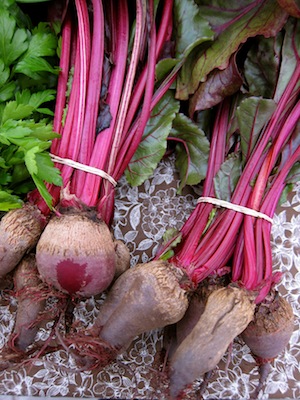 What we think of as a beet, that red bulb, is actually the root of the garden beet. Its red color comes from a variety of betalain pigments, which have been shown to support the body's detoxification process, activating and processing unwanted toxic substances. Plus, that beautiful color offers a delightful contrast to other winter vegetables such as parsnips and potatoes.
Beets have the highest sugar content of any vegetable, so their lovely sweet flavor is best highlighted when they are slow roasted or steamed. They pair well with cheese, bacon, smoked fish, walnuts, horseradish, chives, and citrus. Beets are great shredded raw into a salad, giving a fresh crunch to our winter diet. These roots can also be preserved by pickling.
In addition, the leaves and stems of young plants can be steamed briefly and eaten as a vegetable; older leaves and stems can be stir-fried and have a flavor resembling taro leaves.
Purchasing: Choose beets that are firm. Large beets are easier to clean and peel (good for recipes where beets are boiled or grated), and small beets can roasted whole (the skin can be rubbed off after roasting).
Storing: Beets prefer cold (32–40 degrees F) and very moist conditions (90–95% relative humidity). Minor blemishes are not a problem if the beets are not intended for long-term storage. In your refrigerator, store beets in sealed plastic bags in your crisper drawer.
Tips: To minimize "leakage" when cooking beets, leave the skin on. Washing your hands with salt will remove any staining. And don't throw away that leftover cooking liquid: use it to tint frosting pink!
Recipes: Try Roasted Kale and Beets with Honey, Roasted Beets and Balsamic-Sauteed Figs on Arugula, Beet Salad with Feta, Orange, and Mint, or visit us on Pinterest for more beet recipes >
Beets are the Featured Vegetable for our Winter Farmers Market on December 8th in Exeter — stop by Brookford Farm, Burnt Swamp Farm, Heron Pond Farm, Hollister Family Farm, Meadow's Mirth Farm, New Roots Farm, Red Manse Farm, and Wild Miller Gardens for your beet fix!