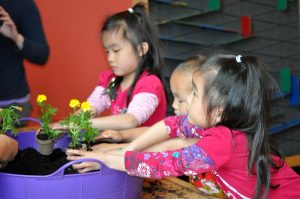 Be an Earth Hero at the Children's Museum of New Hampshire's celebration this weekend! Their annual Earth Day event is Sunday, April 22nd from 12 to 5 p.m. —  make sure to stop by the Seacoast Eat Local table (1:30 to 3:30 p.m.), and learn which vegetables make great garden companions!
Be an Earth Hero!
Earth Day Celebration at the Children's Museum of NH
6 Washington St, Dover, NH
Sunday, April 22, 2012
12 – 5 pm
It's all about going green at our annual Earth Day event, generously sponsored by D.F. Richard. Come learn about how we can be kind to the earth by reducing, reusing and recycling. Many different hands-on activities will be available, thanks to our friends at Wentworth Greenhouses, Seacoast Eat Local, Fracassa DesignWorks, Revision Energy and more! Plant flowers, learn about composting with worms, discover roots, make a solar oven, find out how to grow veggies, meet the trout we're raising, etc.
For more information: www.childrens-museum.org
Visit Seacoast Eat Local's Calendar for more Earth Day events!