Hampton Falls is one of the farmers' markets that is brand new this year, and it is off to a great start. It takes place Monday afternoons on the green at the intersection of rte 1, and the farms that have already signed on provide a good selection of foods to buy.
B and SZP are challenging themselves to visit all 31 farmers' markets of Rockingham, Strafford, and York counties in the 31 days of July, and share their discoveries along the way. Previous entries in this series.
The day we visited the Hampton Falls Farmers' Market, seven farmers and vendors were selling their goods. Jesta Farm had goat milk and soaps.  Applecrest Farm had blueberries, strawberries, and plenty of delicious vegetables. Blueberry Hill Alternatives had body care products and Buzz Bomb brings spice blends. There were baked good and jams and pickles. There was also another vegetable farm that had a large selection and abundance of vegetables, from Essex county, whose name I am sorry to have not written down.
With easy parking around the green and a lovely location, the market has great potential and the right room to grow into. Sue Veilleaux, one of the organizers of the market, is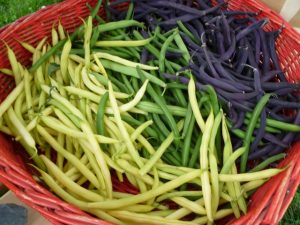 actively recruiting new vendors, and in particular would like to recruit a certified organic vegetable producer. If you are interested in becoming a vendor or want to pass along word to a farmer you'd like to see join the market, contact Sue Veilleux at (603) 772-6963 or  jestafarm@aol.com.
Hampton Falls Farmers' Market
Mondays 2-6
June 13 to October 31
Hampton Falls town common
Rte 1 Hampton Falls, NH map
Farmers' Market Count: 15 down, 16 to go!